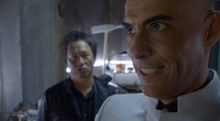 Plot
[
]
Aaron Stone is sent on his first mission to capture a toxin from Dr. Necros, one of the seven members of the Omega Defiance, and his right hand man, The Souljacker, who plan to release the toxin and turn people into zombies so he can take over the U.S.A.
Cast
[
]
Main Cast
[
]
Kelly Blatz
Tania Gunadi
David Lambert
J.P Manoux
Reccuring Cast
[
]
Martin Roach as T. Abner Hall
Co-starring
[
]
Anthony J Misfud as Dr. Necros
_______ as Souljacker
Trivia
[
]
This episode and Hero Rising, Part 1 aired on Disney XD the same night.

Both episodes also featured a 'premiere party' on Disney XD, which consisted of actors Kelly Blatz, Tania Gunadi, Vasanth Saranga, Jesse Rath, David Lambert and JP Manoux chatting about the premiere and production during commercial breaks.
In this episode, we meet Dr. Necros, the first Omega Defiance member to be introduced.
This episode is the last appearance of Souljacker
STAN claims that Souljacker is still out there somewhere.
Errors
[
]
When Jason is playing Hero Rising, Charlie says good night to Emma. Jason calls him over to show him Souljacker has appeared, but Jason is not wearing the game's headphones. Once Souljacker throws his stick, the screen goes back to Jason, who is wearing the headphones. Seconds later when Charlie joins in, in one shot for a brief moment you can see the top of Jason's head, who is again not wearing headphones. Once Souljacker is defeated, you see Jason again, wearing the headphones.