Charlie and Emma have known each other since the pilot episode, Hero Rising Part 1. They seem to have a lot in common and they are best friends. 
Chemma (Ch/arlie + Emma)
Earlie (Ch/arlie + E/mma)
Charma (Char/lie + Em/ma)
In "First Strike", Charlie and Emma decided to go on a date to the movies but Charlie couldn't make it in time for the date due to a mission.
Charlie seemed very surprised and worried when he saw Emma being a crime fighter like him in "Not So Friendly Skies Part 2".
Emma was so worried about Tranq haunting Charlie's dreams and was so quick to help him out in "Dream Cast".
Charlie decided to take Emma to a dance party at the school and be her dancing partner in "Saturday Night Fever".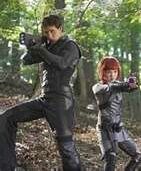 Charlie looked so desapointed and worried when he saw Emma kiss Jason on the lips to hide Stan secret about him being a android when his hand fell off in the season one final, "Game On".
Emma showed that she cared about Charlie by telling him about the truth about his father even though Mr. Hall told her not to in "In the Game of the Father".
In "Pack-Man", Charlie (as Aaron) told Emma to hug him and activated his invisibility to hide from an agent. When the agent was gone, they turned visible again and was still hugging eachother. Then they realised what they where doing and stood back. Aaron told Emma to thank him for saving but she said although she was the one invented the invisibility suit.
In "Metal Gear Liquid", Charlie seemed surprised, disappointed and worried when the metal ball erased Emma's memory.
In "Mutant Rain Part 1", Charlie seemed worried when Emma lost her sight temporaraly.
Community content is available under
CC-BY-SA
unless otherwise noted.