Aaron and Elias



Between:

Aaron Stone & Elias Powers

Status:

Enemies

First interaction:

"Mind Games"

Last interaction:

"Mutant Rain part 2"

Potrayed by:

Kelly Blatz and Malcolm Travis
The relationship between the two enemies Aaron Stone and Elias Powers.
They are also know as Aarias (Aa/ron + El/ias) by fans.
Moments Enemy and slash
[
]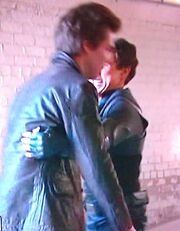 Mind Games
[
]
Aaron sarcastically offered Elias help before he jumped down from the van.
Elias asked Aaron if he liked surprises, and then shot at him.
Aaron didn't let Elias fall on the floor when he passed out from the solar burst, but caught him instead.
Elias glared at Aaron's back when he woke up in the SSJ.
They were both looking at each other when Hall was telling Aaron about Elias and he was pacing in the force field.
Elias said he would only tell Aaron where he was building the Atom Disruptor.
Aaron agreed to talk to Elias.
Elias smiled/smirked when Aaron walked up to him.
After Elias asked him what he thought of the game, Aaron replied "he loved it" before he let slip about Jason.
Elias said he was going to use the atom disruptor to destroy everything Aaron knew and cared about.
Elias laughed (evilly) when Aaron was backing away from him.
After Hall told the guards to increase the voltage on the forcefield, Elias smirked at Aaron.
Elias challenged Aaron to a game of Hero Rising.
Elias showed Aaron a secret level in the game.
Elias was angry a teenager had beaten him at Hero Rising.
During class, Aaron was thinking about Elias' riddle.
He had to let Elias escape from prison because Jason was in trouble.
Elias sent Aaron a threatening message on Hero Rising, possibly to get inside his head.
My stakeout with S.T.A.N
[
]
Aaron seemed keen to learn more about Elias.
Game on
[
]
Elias was threatening the man, and said Aaron beat them because he was weak and afraid.
Elias promised Aaron's victory in the weapons lab would be his last.
Elias was hell-bent on finding Aaron, and he said to the man that he couldn't eat or sleep until Aaron was found.
Elias called Aaron 'Mr. Stone' when his name came up on the screen, and again when he was looking for him at the video game tournament.
When Aaron shot the guards (along with Emma) he bragged to Elias that it was no challenge at all.
Emma said: "He's all yours" to Aaron, and Elias moved forward shortly a

fter.
During the fight, Elias put his hand on Aaron's shoulder (to throw him) after punching him and he was doubled over.
Elias grabbed Aaron by his shirt and had him pinned against the wall for a few seconds.
At some moments in the fight, they were pressed against each other.
When he threw Aaron into the wall, Elias' arm was around him for a few seconds.
Elias smirked at Aaron when he 'missed' him with his gauntlet.
After Elias was knocked out, Aaron said: "Bet you feel pain now" and glanced back at him briefly.
Run Aaron, Run
[
]
Aaron called Elias "Mr. Hero Rising bad loser himself."
He said he would have loved to see Elias crawl through the sludge.
Elias challenged Aaron to a high-stakes game.
When they talked on the phone, Elias was the calm one, and Aaron was getting frustrated.
He said to Elias (on the phone) "If you want me take me" and he paused before saying about leaving Emma out of the game.
Elias said it was tempting, paused, and then told Aaron it wasn't his endgame.

However, he did appear to think about it for a second, and one wonders what Elias' idea of 'tempting' really meant.

Aaron knew Elias was predictable, and that he hid a clue at the top of every level.
When Elias confronted Aaron on a camera, he looked amazed.
Aaron looked at Elias before he ran off, and Elias looked somewhat ecstatic about it.
During the crane scene, Elias was talking to Aaron and wasn't shooting at him.
Aaron said he was taking the fight straight to Elias.
When they confronted each other, they kept looking at each other.
When Elias was trying to get the tracking device off of the table, Aaron said he needed to get out of there and Elias looked at him for a split second.
Aaron looked at Elias one more time before he ran off with S.T.A.N, undoubtedly feeling guilty, although not enough to go back for him.
Mutant Rain part 1
[
]
They had no interaction in this episode, but when Emma was fixing his gauntlet, Aaron was about to make a suggestion that Elias had something to do with Grudge being able to beat him.
Mutant Rain part 2
[
]
Aaron was watching Elias with bincoulars
Aaron knew Elias was involved in the scheme to take over the White house.
When Elias walked into the room Aaron and the president were in, he smirked at Aaron.
Elias knelt down beside Aaron for a while and was looking at him intently.
When Elias was moving around, Aaron was looking at him.
He looked at Aaron before he shut the door.
Aaron called Elias a "liar" and "a cheater" and knew he wouldn't keep his promise about sparing him and the president.
Elias said that Aaron knew him well.
Elias pointed the gauntlet at Aaron last.
Elias smirked at Aaron when he found out Jason was his brother.
Aaron smiled down at "Elias" when he was caught.
Fanon
[
]
Aarias BOSS: Mr Hall (He sends Aaron on the missions)
Aarias Color: Brown. (They both have brown hair)
Aarias Day: July 27 (Being the day Mind Games aired (in the US), and when they first met each other)
Aarias Animal: Brown Bear (The Aarias color is brown, and they can both get aggressive in certain situations like a bear)
Aarias Number:
5 (Aaron and Elias each have five letters in their name)
3 (Aaron and Elias have confronted each other three times)
Fanfiction
[
]
To be dominated (M rated)- http://www.fanfiction.net/s/7048504/1/to-be-dominated
Revelations - http://www.fanfiction.net/s/8518731/1/Revelations
Unexpected Saviour - http://www.fanfiction.net/s/8604383/1/Unexpected-Saviour
Fanart
[
]
Trivia
[
]
Elias only ever introduced himself as "Elias" to Aaron.
It is unknown why Elias hated Aaron so much, but it was apparent he did, after showing some annimosity towards him in one of their first scenes together in "Mind Games" after Elias was imprisioned. It could be possible that's the reason why, or it could just be because Aaron was on the same side as Elias' enemy, Mr. Hall.
The three times where they have confronted each other would have resulted in Elias beating him, but Aaron always managed to escape by taking him down with some sort of weapon.
Although Aaron called Elias a liar in Mutant Rain part 2, it should be interesting to note that Elias has never actually lied to him, or anyone.
Both of them had been lied to/decieved by Mr. Hall, although Elias was the only one to leave him, whilst Aaron continued to be wary of trusting him, but stayed on his team.
Songs
[
]
Can't be tamed - Miley Cyrus
Counting bodies like sheep to the rythmn of the war drums - A perfect circle
Criminal - Britney Spears
Every time we touch - Cascada
Going under - Evanescence
Hang you from the heavens - Dead weather
I think bad thoughts - Danko Jones
Round and round - Selena Gomez and the scene
Supermassive black hole - Muse
Sweet dreams (are made of this) - Emily Browning
Tear you apart - She wants Revenge
Take me under - Three days Grace
The Devil's Rejects - Rob Zombie
Up in flames - She wants Revenge
Undisclosed desires - Muse